Welcome back! You're listening to the "Breaking Social Norms" podcast with the Weishaupts! Today we'll start our discussion about a prophetic Orthodox monk named Father Seraphim Rose! First up in housekeeping: Home renovation drama & HelloFresh reviews! Then we'll talk about who Father Seraphim Rose was, debating spirituality vs atheism vs religion, finding where horror films overlap with Christian rapture, Rose's controversial beliefs such as spiritual Toll Houses and much more! This is a primer for our part 2 where we'll discuss his prophetic statements made in "Orthodox and the Religion of the Future" (next week)!
FULL SHOW NOW UP AD-FREE with early access on Patreon.com/BreakingSocialNorms and Apple Podcast Premium; free feed gets it in two days!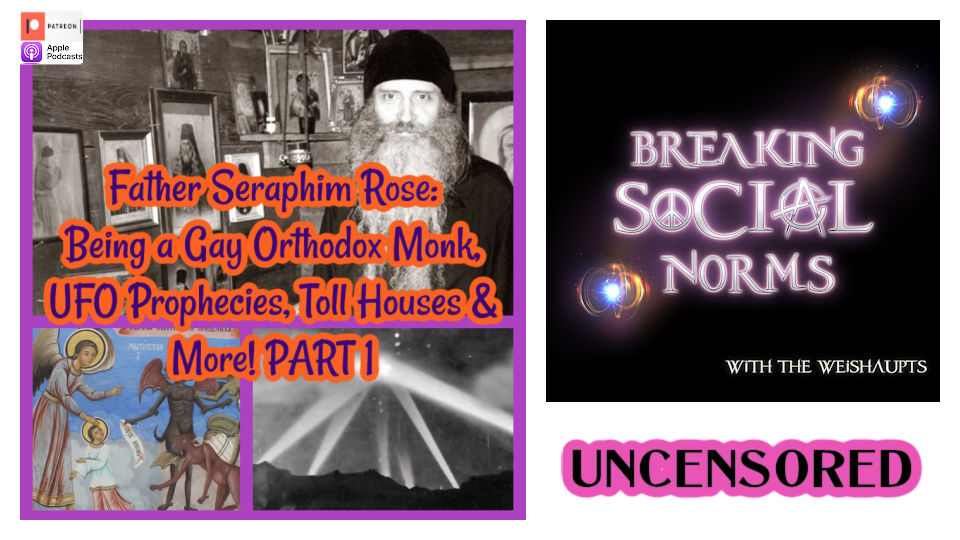 LISTEN TO THE  SHOW:
Listen to "Father Seraphim Rose: Being a Gay Orthodox Monk, UFO Prophecies, Toll Houses & More! PART 1" on Spreaker.
SUPPORT THE SHOW!
You can now sign up for our commercial-free version of the show at Patreon.com/BreakingSocialNorms OR Apple Podcasts Premium! These both include the Patreon-exclusive mini-shows called "Morning Coffee with the Weishaupts!"
Subscribe to the show on your favorite podcast app! You can find us on:
Leave a review or rating for the show!
CATCH UP ON THE ARCHIVE!
Index of all episodes: https://breakingsocialnorms.com/2021/03/22/index-of-archived-episodes/
FOLLOW US ON SOCIAL MEDIA!
Follow Josie at Instagram.com/TheWeishaupts2 for photos of us, the dogs, memes, and anything else we'd like to share from our show!
SIGN UP FOR THE EMAIL NEWSLETTER!
For all the updates and important messages, follow our newsletter- managed by us and us only! WE WILL NEVER SELL YOUR EMAIL TO SPAMMERS.