Welcome back! You're listening to the "Breaking Social Norms" podcast with the Weishaupts! Things took an interesting turn with today's episode because Isaac wanted to discuss Barbie film symbolism and ideas but Josie opened a can of worms- a dilemma about conspiracies contributing to philosophies that Isaac doesn't agree with! First we talk about Lizzo's banana allegations, a quick talk about the new Super Mario Brothers film, our first memories of the Super Mario Brothers NES game, we find out who would win in the Elon Musk vs Mark Zuckerberg fight and we even hit those Patreon.com/BreakingSocialNorms Tier 2 shoutouts for August!
FULL SHOW NOW UP AD-FREE with early access on Patreon.com/BreakingSocialNorms and Apple Podcast Premium; free feed gets it in two days!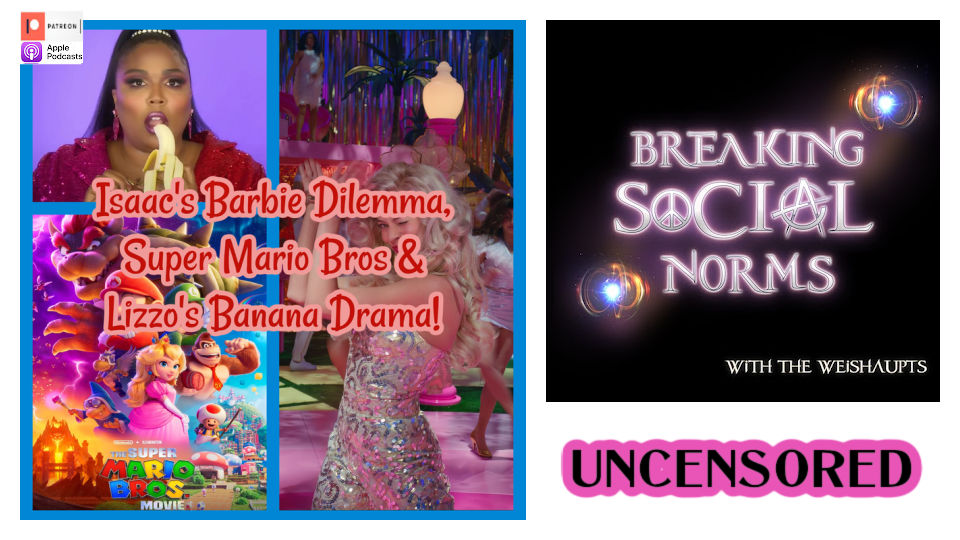 LISTEN TO THE  SHOW:
Listen to "Isaac's Barbie Dilemma, Super Mario Bros, Musk vs Zuck & Lizzo's Banana Drama!" on Spreaker.
SUPPORT THE SHOW!
You can now sign up for our commercial-free version of the show at Patreon.com/BreakingSocialNorms OR Apple Podcasts Premium! These both include the Patreon-exclusive mini-shows called "Morning Coffee with the Weishaupts!"
Subscribe to the show on your favorite podcast app! You can find us on:
Leave a review or rating for the show!
CATCH UP ON THE ARCHIVE!
Index of all episodes: https://breakingsocialnorms.com/2021/03/22/index-of-archived-episodes/
FOLLOW US ON SOCIAL MEDIA!
Follow Josie at Instagram.com/TheWeishaupts2 for photos of us, the dogs, memes, and anything else we'd like to share from our show!
SIGN UP FOR THE EMAIL NEWSLETTER!
For all the updates and important messages, follow our newsletter- managed by us and us only! WE WILL NEVER SELL YOUR EMAIL TO SPAMMERS.