Welcome back! You're listening to the "Breaking Social Norms" podcast with the Weishaupts! Today we'll talk about the drama of Burning Man! We'll discuss what it is, the history, ties with Satanism at the Presidio, Black Rock Desert, the occult connections with Baal, Moloch and the Bohemian Grove Cremation of Care ceremony! We'll discuss the positive elements of Burning Man, communal gatherings and a COUNTER-conspiracy to consider about media deceptions about Ebola and other conspiracies of Burning Man! We'll also hit the Patreon.com/BreakingSocialNorms Tier 2 shoutouts for September!
FULL SHOW NOW UP AD-FREE with early access on Patreon.com/BreakingSocialNorms and Apple Podcast Premium; free feed gets it in two days!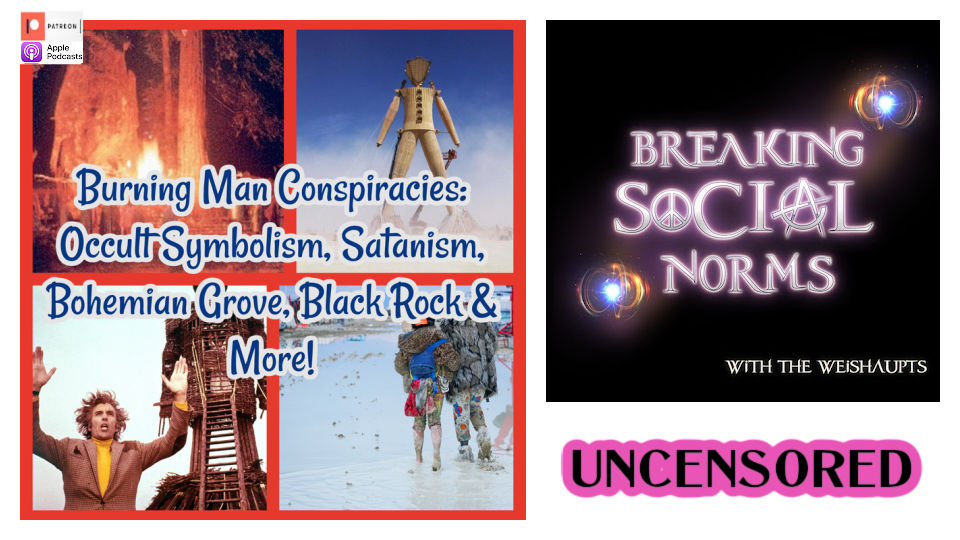 LISTEN TO THE  SHOW:
Listen to "Burning Man Conspiracies: Occult Symbolism, Satanism, Bohemian Grove, Black Rock & More!" on Spreaker.
SUPPORT THE SHOW!
You can now sign up for our commercial-free version of the show at Patreon.com/BreakingSocialNorms OR Apple Podcasts Premium! These both include the Patreon-exclusive mini-shows called "Morning Coffee with the Weishaupts!"
Subscribe to the show on your favorite podcast app! You can find us on:
Leave a review or rating for the show!
CATCH UP ON THE ARCHIVE!
Index of all episodes: https://breakingsocialnorms.com/2021/03/22/index-of-archived-episodes/
FOLLOW US ON SOCIAL MEDIA!
Follow Josie at Instagram.com/TheWeishaupts2 for photos of us, the dogs, memes, and anything else we'd like to share from our show!
SIGN UP FOR THE EMAIL NEWSLETTER!
For all the updates and important messages, follow our newsletter- managed by us and us only! WE WILL NEVER SELL YOUR EMAIL TO SPAMMERS.