LISTEN TO THE  SHOW:
Listen to "Technology Evolving Mankind, Sex Magick, Buckminster Fuller, Kenneth Grant & Diana Pasulka's Encounters!" on Spreaker.
Welcome back! You're listening to the "Breaking Social Norms" podcast with the Weishaupts! Today we'll talk about society being steered by technology, occultists and sex magick! The conversation starts out with a talk about cheating, Patreon.com/BreakingSocialNorms Tier 2 shoutouts, then we get into it! We'll talk about Buckminster Fuller's Nonsense of Earning a Living, embracing change vs fear, Robert Anton Wilson's Cosmic Trigger, Prof Diana Pasulka's new book ENCOUNTERS, Kenneth Grant's "Outside the Circles of Time" book, sex magick and orgasm energy!
FULL SHOW NOW UP AD-FREE with early access on Patreon.com/BreakingSocialNorms and Apple Podcast Premium; free feed gets it in two days!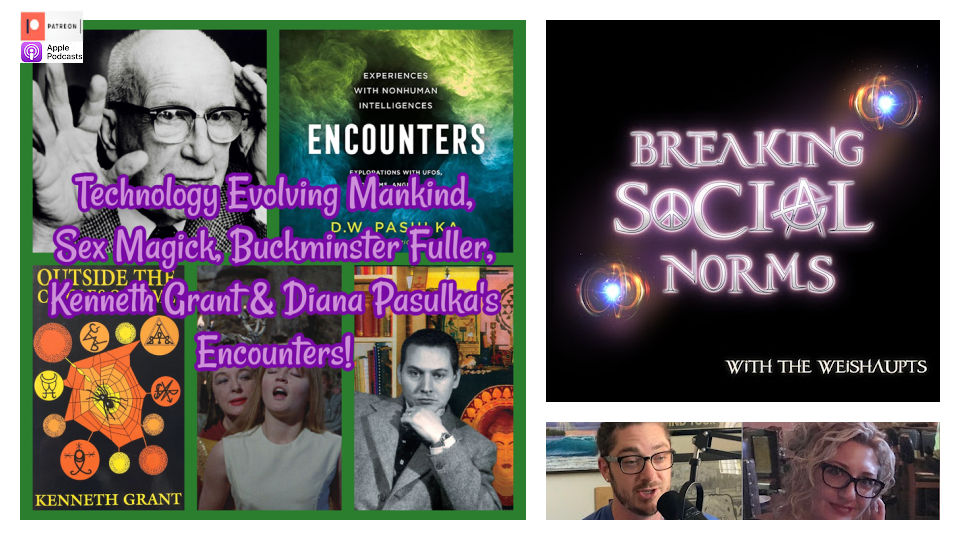 SUPPORT THE SHOW!
You can now sign up for our commercial-free version of the show at Patreon.com/BreakingSocialNorms OR Apple Podcasts Premium! These both include the Patreon-exclusive mini-shows called "Morning Coffee with the Weishaupts!"
Subscribe to the show on your favorite podcast app! You can find us on:
Leave a review or rating for the show!
CATCH UP ON THE ARCHIVE!
Index of all episodes: https://breakingsocialnorms.com/2021/03/22/index-of-archived-episodes/
FOLLOW US ON SOCIAL MEDIA!
Follow Josie at Instagram.com/TheWeishaupts2 for photos of us, the dogs, memes, and anything else we'd like to share from our show!
SIGN UP FOR THE EMAIL NEWSLETTER!
For all the updates and important messages, follow our newsletter- managed by us and us only! WE WILL NEVER SELL YOUR EMAIL TO SPAMMERS.