Welcome back! You're listening to the "Breaking Social Norms" podcast with the Weishaupts! Today we'll (eventually) talk about the Maui Fire Conspiracies by route of: climate change, insurance companies, Candlelight concert review, The Bear S2, Oliver Anthony, financial contributions to politicians, trusting institutions and free market capitalism, chicken shit, Smart City Maui, Amazon Maui Fire book, who owns the most land in Maui (*it ain't Oprah!), Police Chief theories, real estate conspiracies, power lines, Hawaii Electric and Directed Energy Weapons. Wrap up show is a story about an Hawaiian swinger who tried to give Isaac free 100% Kona coffee but Josie got scared!
LINK TO ISAAC'S SHOW ON MAUI CONSPIRACIES: https://illuminatiwatcher.com/maui-fire-conspiracy-dews-smart-city-a-i-sirius-lions-gate-blackrock-oprah-more/
FULL SHOW NOW UP AD-FREE with early access on Patreon.com/BreakingSocialNorms and Apple Podcast Premium; free feed gets it in two days!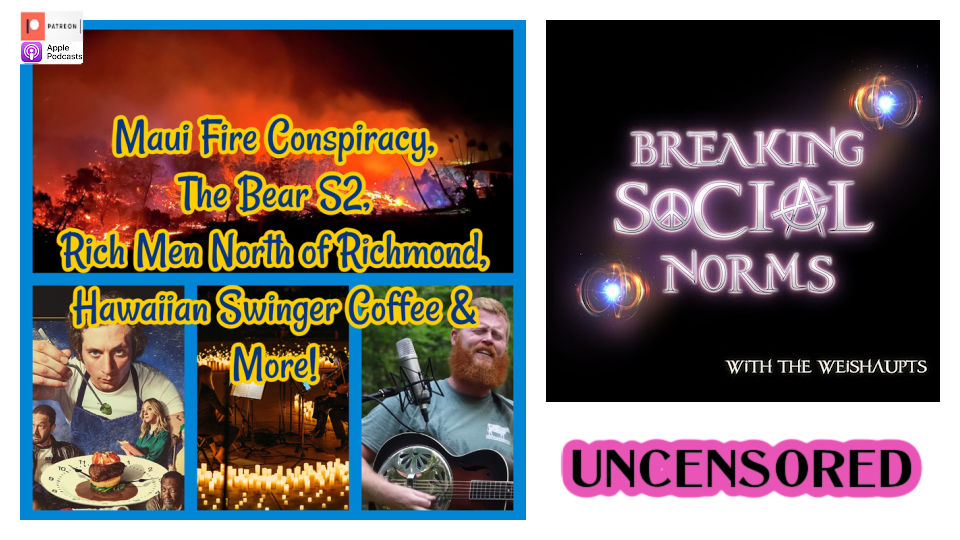 LISTEN TO THE  SHOW:
Listen to "Maui Fire Conspiracy, The Bear S2, Rich Men North of Richmond, Hawaiian Swinger Coffee & More!" on Spreaker.
SUPPORT THE SHOW!
You can now sign up for our commercial-free version of the show at Patreon.com/BreakingSocialNorms OR Apple Podcasts Premium! These both include the Patreon-exclusive mini-shows called "Morning Coffee with the Weishaupts!"
Subscribe to the show on your favorite podcast app! You can find us on:
Leave a review or rating for the show!
CATCH UP ON THE ARCHIVE!
Index of all episodes: https://breakingsocialnorms.com/2021/03/22/index-of-archived-episodes/
FOLLOW US ON SOCIAL MEDIA!
Follow Josie at Instagram.com/TheWeishaupts2 for photos of us, the dogs, memes, and anything else we'd like to share from our show!
SIGN UP FOR THE EMAIL NEWSLETTER!
For all the updates and important messages, follow our newsletter- managed by us and us only! WE WILL NEVER SELL YOUR EMAIL TO SPAMMERS.