Welcome back! You're listening to the "Breaking Social Norms" podcast with the Weishaupts! Today we start a journey into the world of cryptocurrencies! We'll discuss Bitcoin, Etherium, Dogecoin and more! We'll talk about fiat currencies, gold standard and Kyle Rittenhouse! We'll consider what would've happened if we invested in cryptos in 2017 vs stocks! We also hit Isaac's latest journey into NFTs and the madness surrounding it! (*We are not financial advisors and this is not financial advice). Part 2 will be more about NFTs, MetaVerse and deeper crypto talk! Subscribe to our new YouTube channel and watch us hash it out! https://www.youtube.com/channel/UCarMLPQCW856nx5mQoN_PEA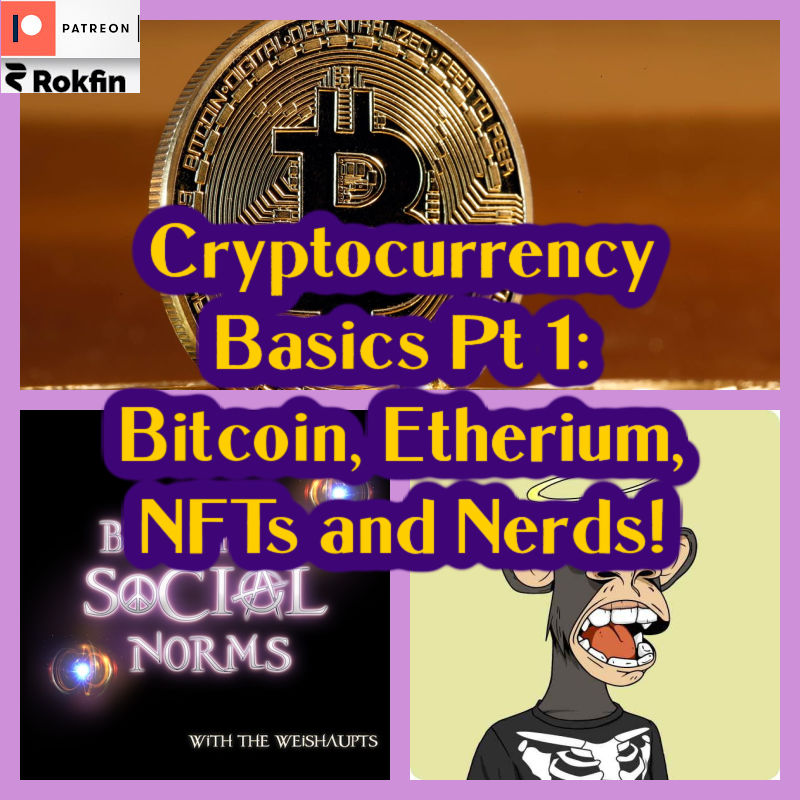 LISTEN TO THE  SHOW:
Listen to "Cryptocurrency Basics Pt 1: Bitcoin, Etherium, NFTs and Nerds!" on Spreaker.
https://youtu.be/9R7POrMxP3A
SUPPORT THE SHOW!
CATCH UP ON THE ARCHIVE!
Index of all episodes: https://breakingsocialnorms.com/2021/03/22/index-of-archived-episodes/
FOLLOW US ON SOCIAL MEDIA!
Follow @THEWEISHAUPTS on Instagram for photos of us, the dogs, memes, and anything else we'd like to share from our show!
SIGN UP FOR THE EMAIL NEWSLETTER!
For all the updates and important messages, follow our newsletter- managed by us and us only! WE WILL NEVER SELL YOUR EMAIL TO SPAMMERS.